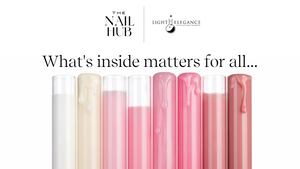 The nail hub is the most trusted destination for high performance gel nail products, education, and resources.
As a company founded by a professional nail tech we know first hand just how much work it takes to earn and keep that "pro" status. Masterful skill, excellent business management, and exclusive professional pricing are all pillars of any successful nail business.
But access to safe and high quality products should not stop at whether or not you hold a license. With so many allergies and concerns around ingredients we are taking this conversation seriously. Through our new education program we will be offering exclusive and controlled access to PRO-only restricted nail products. All nail lovers licensed or unlicensed will now have the opportunity to earn access to professional grade product. We've worked hard to create an inclusive community that inspires and supports, while still giving working professionals the status they deserve.
Through PRO-only tutorials, support and most importantly business education we support those that do this for a living and use these products in their careers. And through knowledge sharing and high quality product access for all, we hope to allow DIYers to learn how to safely enjoy their hobby and inspire future generations of professional techs.
Get started with 3 Simple Steps
Follow the steps below to gain access to PRO-only product.
Step 1: Purchase the Course
Start this process by purchasing our online course. All classes are provided online so you can learn at your pace at any time of day or night.
Register Here
Step 2: Get Educated
Get your copy of our course book and detailed video education that walks you through everything from chemistry to application.
Step 3: Take Your Assessment
You'll take an assessment at the end of the course. After successful completion you'll be authorized to purchase select PRO-only products.
★★★★★

Yes you are an amazing teacher. You take the time to explain perfectly. When I talk about nais I all the time talk about you and how you teach. Thank you to continue to teach us !!

J. Chartrand
★★★★★

Liz you are a great instructor and I love your videos. Thank you so much for the great tutorials. Much needed. Greetings from Cyprus.

H. Orphanides
★★★★★

Wow! You knocked it out of the park with this video! Clearly encompassing nail integrity safety & structure. Thank you again for all that you do!!!

S. Campbell
★★★★★

I have followed all your videos and now have done my nails several times with them. I've gotten so many compliments, and people are shocked I did them myself. I always suggest your series to other DIYers. Thank you!

F. Dreaming